Bespoke TV Beds
Here at tellybeds, we can provide bespoke tv beds, whether you need size alterations, use your own fabric, design your own bespoke tv bed, give us a call and let us know. We have a long tradition of serving the needs of our customers, that's why we provide the opportunity for customers to provide us with their exact requirements, whether its sizing, bespoke options or having your bed upholstered in your own fabric, we have worked with a number of clients and interior design studios to cater for a wide variety of individual requirements, and we aim to illustrate these projects, here on our site, providing images and examples, to assist our clients wherever possible. If you have any questions regarding the products or services we offer, please don't hesitate to give us a call on 01384 483322 to discuss your requirements. Below are a few examples of our bespoke TV beds recently completed,
Kensington Adjustable TV Bed
Our customer asked us to make the Kensington adjustable TV Bed without a headboard, so the bed would fit within fitted furniture within the bedroom, we have done this a number of times where space can be at a premium, our range of tv beds can all be manufactured in this way.
Bespoke TV Bed – The Philippe
Our customer sent a request with their own design, they wanted a TV Bed covered in their own fabric, creating a two tone effect, after receiving the fabric our team went to work and created the bed you see in the images; many of our customers send fabrics for us to use on their beds, helping colour coordinate with their existing decor.
Emperor TV Bed
We also supply Emperor size TV beds for those lucky enough to have big bedrooms, here one of our customers opted for a Philippe TV bed in a whopping 7'0, now thats a place you can really stretch out in and watch TV in bed.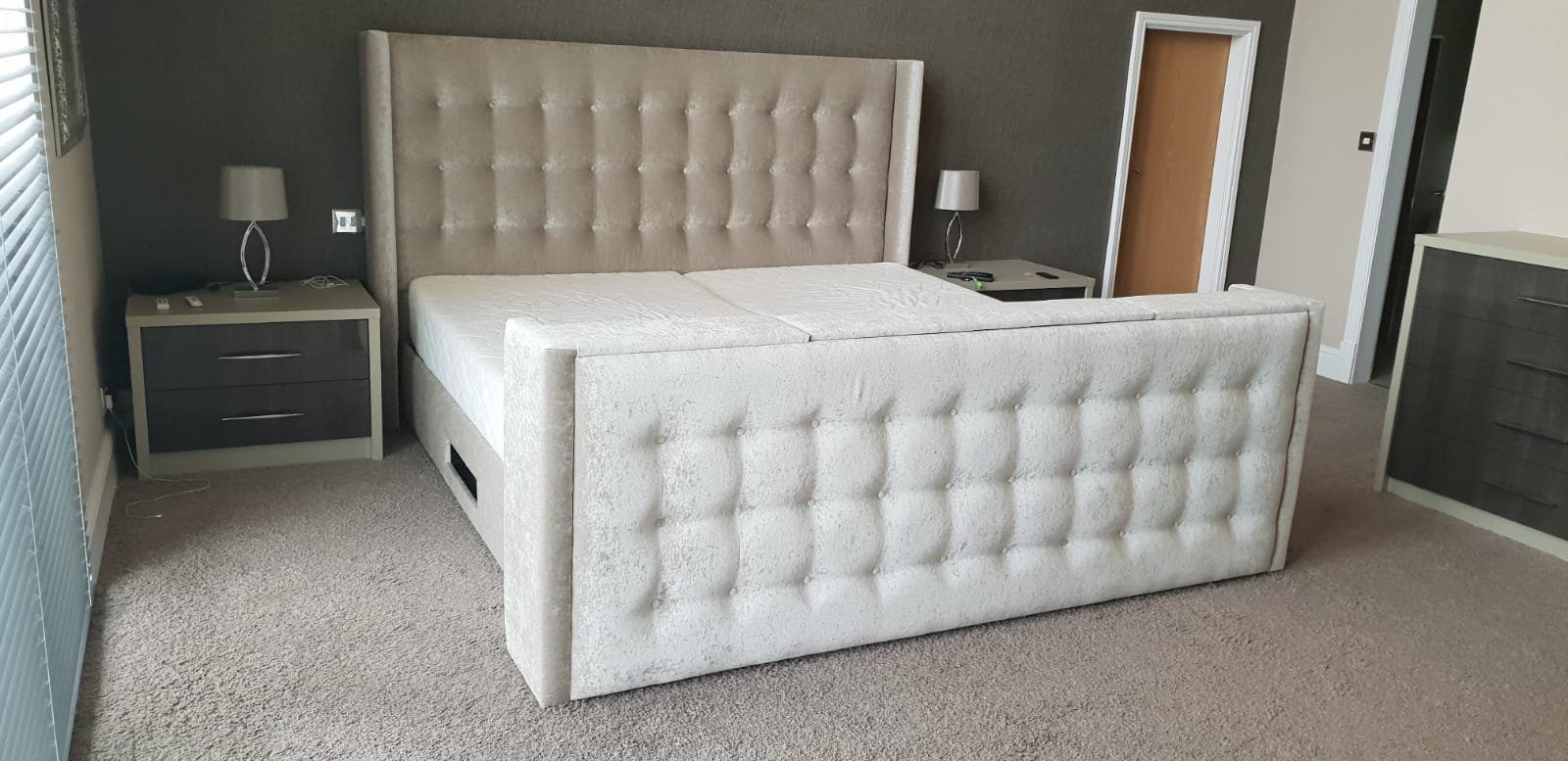 Empress TV Bed
One of our customers wanted to design their own tv bed, inspired by a bed they liked, they approached Tellybeds and asked us if we would be happy to help in the collaboration, of course we were delighted to help, our customer sent us images of the bed they saw elsewhere alongside the fabric they wanted their new bespoke TV bed to be upholstered in and soon enough we made one to the exact specifications. The headboard follows a classic French design with chrome studding to really compliment the design.
Eleanor TV Bed – Without AV Shelf
As with all TV Beds, having somewhere to store your audio and video equipment can be handy, they are basically storage shelves for thing like games consoles, sky boxes, DVD players or anything else that connects to your TV, however some people choose not to have them, so we can manufacture our bespoke TV beds to have AV shelves or not to have them, the choice is yours, in addition you can request extra width if you need more storage for your equipment. Find out more about TV Beds.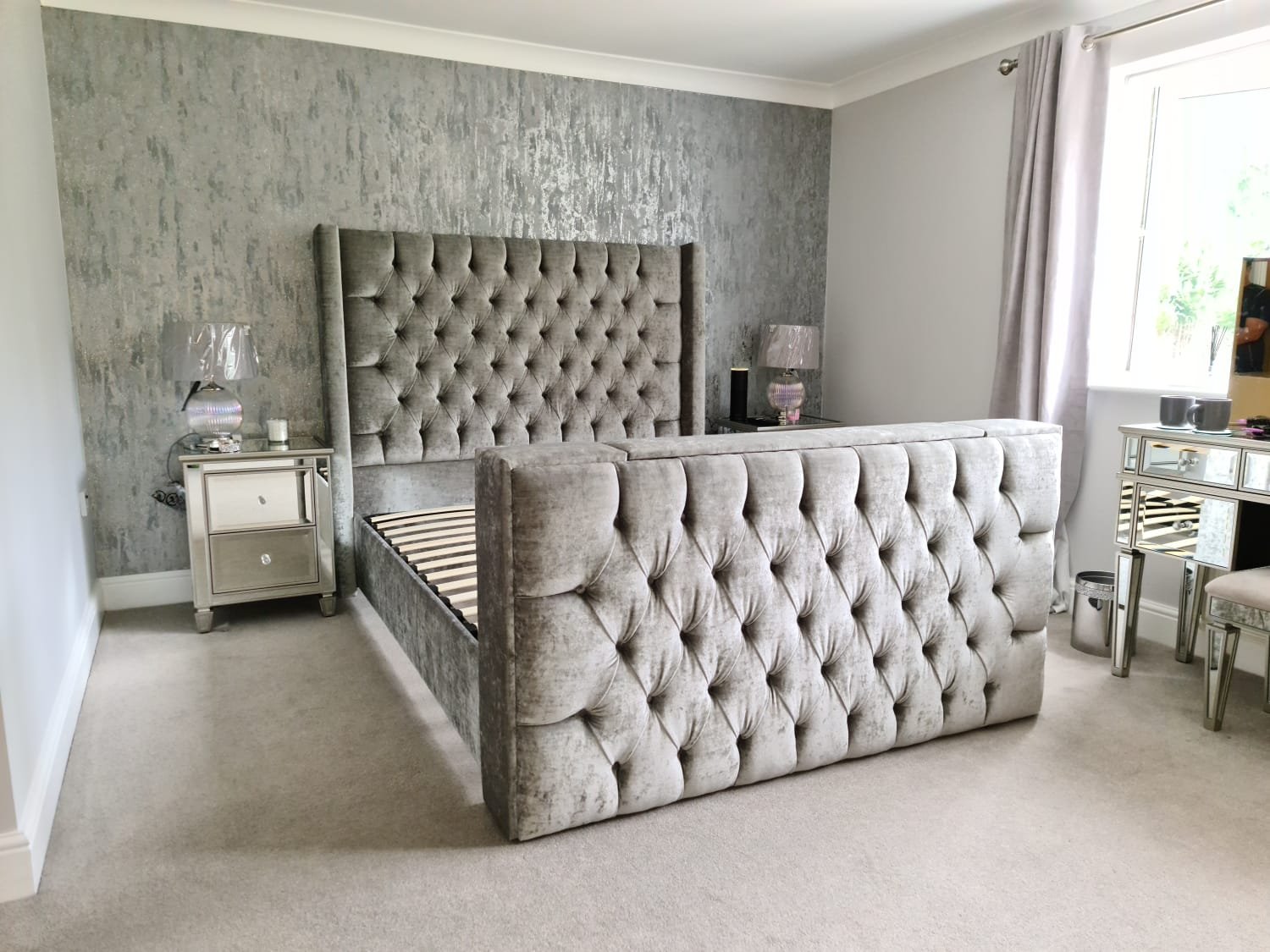 Bespoke TV Bed With 55″ TV
This bespoke TV Bed features a huge 55″ TV in the foot of the bed, also included is a Bluetooth sound system, our customer liked the Henley TV Bed and the Eleanor and decided to have the head end of the Henley and foot end of the Eleanor TV Bed, the design was finished with diamantes for a touch of extra glamour.